Oil Gas and Mineral Rights System
| | | | |
| --- | --- | --- | --- |
| Iran, Oil and Strait of Hormuz | | | |
Written by Tobias Vanderbruck for Oil-Price.Net
Thursday, 23 February 2012 13:26
Hormuz controls access to oil from Saudi Arabia, Kuwait, Qatar, the UAE and Iran. 20% of the world'd oil would stagnate if Iran closed the strait of Hormuz 
Iran, Oil and Strait of Hormuz
By TOBIAS VANDERBRUCK for OIL-PRICE.NET, 2012/02/20
This article was written by Oil-Price.net "http://oil-price.net/en/articles/iran-oil-strait-or-hormuz.php">Oil-Price.net> which provides free information on crude oil.
Strait of Hormuz, for the uninitiated, is the narrow passage connecting the Persian Gulf to the Arabian Sea, surrounded by countries like Saudi Arabia, Iran, UAE, Iraq and Oman. It is significant for the simple reason that about 17m barrels of oil produced in the Middle East is transported through the Strait. Right now, the strait is in dire straits. Why? For many reasons, most of it centered around oil. How? At about 54 km wide (34 miles) at its narrowest point, the strait can be blocked with ease, and Iran has threatened. Why?
Well, the European Union has placed an embargo on Iranian oil imports, and some sanctions on the central bank. In the US, on Dec 31, President Barack Obama has signed a bill imposing new sanctions on Iran under the National Defence Authorisation Act. This law, apart from targeting the revenue from oil imports, also targets financial institutions from other countries that conduct transaction with Iran's central bank. From March, such institutions would be barred from doing business in the US. The Lawmakers in the US are also planning to blacklist President Mahmoud Ahmadinejad and Iran's supreme leader, Ayatollah Ali Khameini.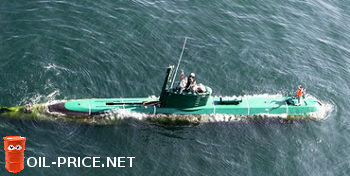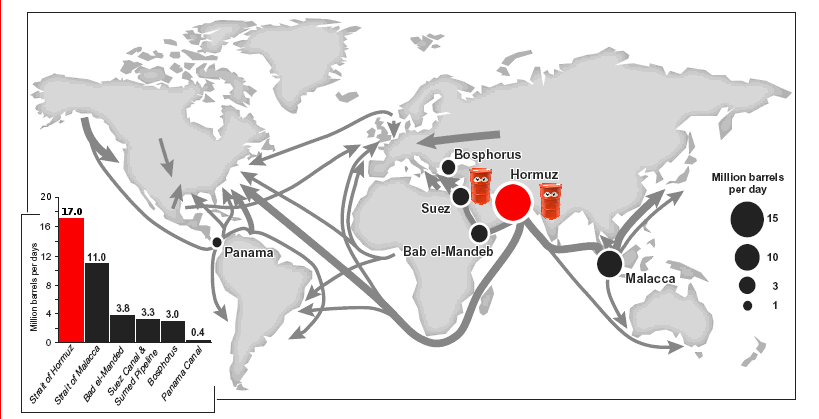 § 
§ 
§ 
§ 
§ 
 © oil-price.net 2009, all rights reserved. Permission to redistribute articles from oil-price.net on other sites can be obtained by contacting us. 
Last Updated on Thursday, 07 June 2012 12:20
Written by Chris Dickerson-Statehouse Bureau

Friday, 06 January 2012 14:00

Lawmakers pass Marcellus Shale bill

 

12/14/2011 2:46 PM

By This e-mail address is being protected from spambots. You need JavaScript enabled to view it -Statehouse Bureau

 

CHARLESTON -- Gov. Earl Ray Tomblin soon will sign legislation for new rules and fees for Marcellus Shale gas drilling in West Virginia.

On Wednesday, the state Senate sent the bill to Tomblin's office after the House of Delegates passed the measure by a vote of 92-5. The Senate vote was unanimous. Tomblin said he'd sign the bill, a compromise piece of legislation created by his office for the special session.

Tomblin hailed the bill's passage.

"For all West Virginians, the legislature and I have worked together to open the door to new job opportunities and reasonable regulations for Marcellus Shale development with the passage of the Horizontal Well Act," he said. "This landmark piece of legislation provides clear rules to the natural gas industry, protects our communities, surface owners and waterways while sending a clear message: West Virginia wants jobs and we will protect our rights and our environment.

"I want to thank the members of the legislature for taking a good bill and making it better for the future of West Virginia. As we continue to create priorities and maintain focus, we will achieve success. We will move West Virginia forward."

Although the bill technically addresses horizontal wells in general, the purpose of the legislation was to address the oncoming growth of oil and gas development in the Marcellus shale in West Virginia, according to attorney Gil White, a government affairs coordinator with Steptoe & Johnson's Charleston office.

"The bill represents a significant victory for both Gov. Earl Ray Tomblin, whose compromise legislation easily passed both the House of Delegates and the Senate with only minor amendments and will become law upon his signature, and the leadership of both houses of the Legislature, which managed to pass significant legislation in this short special session," White said in a statement.

Once signed, the new law will provide:

* Increased permit fees to fund the regulatory efforts of the West Virginia Department of Environmental Protection. It sets $10,000 permit fees for initial wells and $5,000 fees for each well added to a site;

* Increased well location restrictions to protect water resources and surface uses;

* A requirement that a road use agreement be in place prior to permit issuance;

* Increased notice provisions and a new compensation statute for surface owners;

* Increased enforcement authority for the state DEP, including increased potential civil penalties for violations of the law; and

* The codification of water use and wastewater handling regulations contained largely in the Governor's emergency rule.

White said there are also provisions for the state DEP to promulgate further legislative rules in the near term regarding air quality and cementing and casing issues.

The Legislature "has been wrestling with how to address the regulatory challenges presented by Marcellus shale" for three years," said White, a former 14-year elected member of the Legislature as well as a former political liaison to former Gov. Joe Manchin. "While it is clear neither industry nor environmental advocates are totally pleased with the passage of this bill, it is a substantial first step in the regulation of the Marcellus shale and provides some level of regulatory certainty needed for industry."

Tomblin said the Horizontal Well Act provides distinct permitting and regulatory rules so that the natural gas industry can develop job opportunities and invest in West Virginia. As well as providing the state DEP with sufficient funding and regulatory authority, ensuring the safety and protection of our communities, waterways and surface owner rights. Through provisions pertaining to the repair and maintenance of roads, notice of drilling activity to surface owners and reporting of water and frack fluid usage, the Act will generate responsible Marcellus Shale development throughout West Virginia.

"First, I would like to thank Governor Tomblin for his leadership in calling the special session to address this issue that provides enormous challenges and opportunities for the citizens of the state," state Senate President Jeff Kessler, D- Marshall, said. "I would also like to thank Speaker Thompson as well as Senator Doug Facemire (D-Braxton) and the members of the joint select committee for their tireless efforts and dedication in formulating a bill that became the framework for this historic piece of legislation we passed today."

House Speaker Rick Thompson, D-Wayne, agreed.

"I commend Governor Tomblin, President Kessler and all members of the Legislature for working diligently to develop significant, compromise legislation that puts in place much-needed guidelines for the development of this promising industry," he said. "I am very grateful to the joint committee members -- led by Senate Chairman Facemire and House Chairman Tim Manchin (D-Marion) -- who spent months gathering input and deliberating on how best to accomplish that goal.

"While there were many different ideas as to specifics within this complex bill, the Governor and legislators were in agreement that there was an urgent need for a regulatory framework to address the relationship between oil and gas extractors and surface owners and to provide environmental protections. I am very pleased with the resulting legislation."

 

Last Updated on Friday, 06 January 2012 14:05

| | | | |
| --- | --- | --- | --- |
| Tighter Oil Supply in 2012? | | | |

Written by Steve Austin for OIL-PRICE.NET

Thursday, 11 August 2011 08:58

| | |
| --- | --- |
| | Saudi Arabia has been overstating its oil reserves for decades and will not meet increased demand in 2012. |

This article was written by Oil-Price.nethttp://oil-price.net/en/articles/tighter-oil-supply-in-2012.php">Oil-Price.net> which provides free information on crude oil.

Predictions for the future? Here's one based on the available pointers: Tighter oil supplies in 2012. In fact, brace yourself, a potential demand surge could, in essence, bring this faraway calculation of next year, nearer by three months. And with it higher price for oil. Last month,

the IEA announced release of strategic oil reserves to the market through August. Historically, such a measure is taken during desperate times like war. Well, goes to show how tight supply really is.

Goldman Sachs Group Inc. has, in a recent report, said that oil supplies would become "critically tight" in 2012. Analysts of the bank predict that oil prices could go even higher as spare production capacity and inventories are "effectively exhausted." So, why not increase production, from say, Saudi Arabia? Well, Goldman has also shared apprehension on the ability of Saudi Arabia to raise oil production in the face of eventual scarcity as it believes that Saudi Arabia won't be able to pump as much extra oil as many people believe. On a scary note, the scarcity could occur as early as later this year.

First to the case of Saudi Arabia:

It's no secret that Saudi Arabia, in a desperate attempt to hold on to power, is trying hard to win back its people. After all, the wave of massive protest for democracy did shake the Middle East. So what does it do? Take this: King Abdullah's has announced generous subsidies to construct 500,000 houses for the poor, a friendly mortgage law for the common man to buy property, finances for infrastructure, religious organisations, and for improving the education and health system, a pay rise for workers in the public sector, unemployment benefits, and more education allowance for students. To be sure, it also helps that the country has massive reserves for all the spending, thanks to oil. In two packages, the first announced in February for $36 billion, and the second in March for $94 billion, the ruler is fighting to win back his people. Together, the $130 billion is equal to 30 percent of the kingdom's GDP, or revenues from oil export for eight months.

All this, the IMF predicted, would help Saudi Arabia's GDP growth by 7.5% (Since revised to 6.5 per cent ). With 24.9 percent of the 1,000 billion barrels proven oil reserves of OPEC, the country has the largest oil reserves in the world and is also one of the largest producers of oil, next only to Russia. IEA holds that Saudi Arabia is capable of producing up to 12 million barrels of oil a day, compared to nine million barrels a day in May. Early this year with tensions ranging in Libya, the IEA's executive director, Nobuo Tanaka had said that Saudi Arabia could easily offset any shortfall in production from Libya.

With such huge reserves, in the meeting on June 8, Saudi Arabia, along with Kuwait, and the UAE pressed for increase in production quotas. But, countries like Libya, Algeria, Venezuela, Ecuador, Iraq, Iran, were against the move. Consequently, no decision was reached and the production quotas remained unchanged. Of course, the last thing the Saudi government needs at this point is high inflation due to import of expensive food grain, offset by high transportation charges due to high oil prices. Some indicators to gauge the extent of price fluctuation in recent times: The oil price hit $101.08 (Brent crude) a barrel in February, the highest since October 2008 (In June 2008, they were jogging around $147 a barrel). In June, 2011 they fell to $90 a barrel amid fears of supply disruption due to the closure of Suez canal and Egypt unrest.

Hence, Saudi Arabia has, quite unilaterally, pledged to increase production, notwithstanding the OPEC decision. According to a Platts survey, oil production from OPEC shot up by 530,000 barrels per day in June, at a total of 29.57 million barrels per day, compared to the 29.04 million b/d in May. And guess what? Saudi Arabia's production was up by 450,000 barrels per day to reach a total of 9.5 million b/d. Kuwait, UAE too have increased production, according to the survey. And don't forget most of this increase is just enough to meet the growing demand at home.

Saudi Arabia, essentially, is putting more oil on the market to pay for generous welfare programs, basically "buying out" its population from joining in on the unrest that spread through other oil producing nations. This is unsustainable and will accelerate well depletion. At this point, no one knows the actual reserves of the country, which is dangerous in itself.

IEA's move

The twenty eight member IEA, announced its decision to would release oil, about 60 million barrel, from the strategic reserves this August. This, it said, was to compensate for the loss due to the volatile situation in Libya. It is only the third time since established in 1974 that the IEA has taken such a step. One thing to be noted is that Libya, with less than two percent of the global oil output, isn't a huge player in the oil industry. In real terms, thus, the shortfall isn't going to make any significant changes to the oil supply. From a short term perspective, this move would help lower the price of oil. (The news did ease the oil price, since regained. ) However, in the long term, the reserves have to be replaced, and if the demand rises, this short term measure will push up oil prices.

Demand

As a more affluent population in BRICs consumes more goods, fuel usage for transportation and farming also increases. According to a UN report earlier this year, the world population would reach seven billion later this year and increase to 14 billion by 2100, if left unchecked. This doesn't necessarily abide by the math rule of 'the more people, the more pressure on the resources of the planet' theory, as people from the wealthy nations consume more, and waste more. However, what happens when the poor move higher on the economic scale. They have every right to the resources too, don't they? Still, continued growth in BRIC countries means motorized vehicle usage will increase. IMF has, in its update of the WEO World Economic Outlook, predicts a growth rate of 7.8 percent for India, and 9.2 percent for China in 2012 next year. This will have a lever effect: less oil production capacity while the demand skyrockets.

According to Bureau of Economic analysis the US economy has declined by 1.8 percent in the first quarter. The latest U.S. job report showed a weak economic recovery with just 18,000 jobs created in June, and in the revised World economic outlook, IMF has since adjusted the growth for advanced economies to 2.5 percent from 2.6 percent. Indeed, the earthquake in Japan, the resultant disruption in the supply chain, and uncertainty with the varying pace of the economic recovery in the US economy's progress, are some of the reasons for the low demand for crude oil for the first half of 2011.

However, when US returns to faster growth, the Japanese economy bounces back, and Europe recovers from the debt crisis and thus a global recovery, what do we have in our hands, a supply deficit for oil.

In fact, Goldman predicts that the world economy would accelerate in the second half of the year itself, increasing demand. "Prices and returns will rise further later this year and into 2012," a report from the bank said, predicting that Brent crude would average at $120 in six months and $130 in 2012. An EIA report estimates that the oil demand will surpass production by 1.16 million barrels per day this year. The reports also suggests that the oil demand around the world to rise by 1.6 million bbl/d in 2012, a gap of 0.5 million barrels per day (only with increased production). The IMF, for its part, in the updated World Economic Outlook (WEO) for 2011, puts the assumed price for oil based on futures market at $105.25 in 2012. Analyst Hussein Allidina, from Morgan Stanley, said "We remain bullish on oil, particularly in the second half, and expect inventory draws will prompt OPEC to increase production, at the expense of spare capacity".

Of course, by 2012, we'll know which of these predictions come true, though wishful thinking hopes that, somehow, we've got it all wrong. Banks are bullish, you know why. But can we sit back, wait and watch as oil prices spiral, because spare capacity was exhausted?

So, really, did the Mayans predict the end of the world in 2012 or did they run out of space on their calendar? More like what Lady Macbeth said, "Almost at odds with morning, which is which." Superstitions and old wives tales aside, if we look at the oil supply/demand numbers, with close to 7 billion people, we are approaching the planet's carrying capacity. With the oil market set to go through a lot of stress in the coming year, 2012 will surely mark a turning point to remember.

© oil-price.net 2009, all rights reserved. Permission to redistribute articles from oil-price.net on other sites can be obtained by

contacting us.

Last Updated on Thursday, 23 February 2012 13:56

| | | | |
| --- | --- | --- | --- |
| Latest News "BAKKEN OIL SEAM" | | | |

Written by USGS.gov & others

Thursday, 03 November 2011 11:54

OIL-You better be sitting down when you read this !


Cruz Construction started a division in North Dakota just 6 months ago.
  
They sent every Kenworth truck (9 trucks) they had in Alaska to North Dakota and
several drivers.
  
They just bought two new Kenworth's to add to that fleet; one being a Tri
drive tractor and a new 65 ton lowboy to go with it.
  
They also bought two new cranes (one crawler & one rubber tired) for that
division.
  
Dave Cruz said they have moved more rigs in the last 6 months in North Dakota than
Cruz Construction moved in Alaska in the last 6 years.
  
Williston, ND is now like a gold rush town; they moved one of our 40 man camps down
there since there are no rooms available.
  
Unemployment in ND is the lowest in the nation at 3.4 percent last I checked.
  
See anything in the national news about how the oil industry is fueling
North Dakota 's economy?
  
Here's an astonishing read:

Important and verifiable information:
  
About 6 months ago, the writer was watching a news program on oil and one of
The Forbes Brothers was the guest.
  
The host said to Forbes, "I am going to ask you a direct question and I
would like a direct answer; how much oil does the U.S. have in the ground?"
Forbes did not miss a beat, he said, "More than all the Middle East put
together."
  
The U. S.. Geological Service issued a report in April 2008 that only
scientists and oil men knew was coming, but man was it big.
  
It was a revised report (hadn't been updated since 1995) on how much oil was
in this area of the western 2/3 of North Dakota , western South Dakota , and
extreme eastern Montana .
  

Check THIS out:
  
The Bakken is the largest domestic oil discovery since Alaska 's Prudhoe Bay ,
and has the potential to eliminate all American dependence on foreign oil. The Energy Information Administration (EIA) estimates it at 503 billion barrels. Even if just 10% of the oil is recoverable (5 billion barrels), at $107 a barrel, we're looking at a resource base worth more than $5.3 trillion.
  
"When I first briefed legislators on this, you could practically see their jaws hit the floor.
  
They had no idea.." says Terry Johnson, the Montana Legislature's financial analyst.
  
"This sizable find is now the highest-producing onshore oil field found in the past 56 years," reports The Pittsburgh Post Gazette.
  
It's a formation known as the Williston Basin , but is more commonly referred
to as the "Bakken".
  
It stretches from Northern Montana, through North Dakota and into Canada .
  
For years, U. S. Oil exploration has been considered a dead end.
  
Even the 'Big Oil' companies gave up searching for major oil wells decades ago.
  
However, a recent technological breakthrough has opened up the Bakken's
massive reserves, and we now have access of up to 500 billion barrels. And because this is
light, sweet oil, those billions of barrels will cost Americans just $16 PER BARREL !!!!!!
 
That's enough crude to fully fuel the American economy for 2041 years straight..
  
And if THAT didn't throw you on the floor, then this next one should -
because it's from 2006 !!!!!!
  
U. S. Oil Discovery - Largest Reserve in the World
  
Stansberry Report Online - 4/20/2006
  
Hidden 1,000 feet beneath the surface of the Rocky Mountains lies the largest untapped oil reserve in the world.
  
It is more than 2 TRILLION barrels. On August 8, 2005 President Bush mandated its extraction.
  
In three and a half years of high oil prices none has been extracted.
  
With this motherlode of oil why are we still fighting over off-shore drilling?
  

 


They reported this stunning news:
  
We have more oil inside our borders, than all the other proven reserves on Earth.
  
Here are the official estimates:
  
8 times as much oil as Saudi Arabia
  
18 times as much oil as Iraq
  
21 times as much oil as Kuwait
  
22 times as much oil as Iran
  
500 times as much oil as Yemen
  
And it's all right here in the Western United States !!!!!!
  
HOW can this BE? HOW can we NOT BE extracting this? Because the
Environmentalists and others have blocked all efforts to help America become
Independent of foreign oil! Again, we are letting a small group of people
Dictate our lives and our economy. WHY?
  
James Bartis, lead researcher with the study says we've got more oil in this
very compact area than the entire Middle East , more than 2 TRILLION barrels
untapped. That's more than all the proven oil reserves of crude oil in the
World today, reports The Denver Post.
  
Don't think 'OPEC' will drop its price even with this find? Think again!
It's all about the competitive marketplace, it has to.
  
Think OPEC just might be funding the environmentalists?
  
Got your attention yet? Now, while you're thinking about it, do this:
  
Pass this along. If you don't take a little time to do this, then you should
stifle yourself the next time you complain about gas prices, by doing
NOTHING, you forfeit your right to complain.
  
Now I just wonder what would happen in this country if every one of you sent
this to everyone in your address book.
  
By the way, this can be verified. Check it out at the link below !!!!!!
  
http://www.usgs.gov/newsroom/article.asp?ID=1911

   

Last Updated on Thursday, 07 June 2012 12:20

Written by Administrator

Friday, 10 December 2010 13:23

            !!!!! FREE TRIAL, JUST FOR YOU !!!!!

BitStream Energy is now offering our login members

a "FREE ONE DAY TRIAL", to allow you to try out our

Aerial View of your Oil & Gas Wells Feature: 

            "API # Search" and "API # Area Search"   

 

SEE YOUR OIL & GAS WELLS LIKE NEVER BEFORE !!!

Do you have a WVDEP Well API # and wonder where

the well is located??? Are you curious if there are any

wells nearby your well??? Would you like an aerial view

that flys you to your well??? You'll see the terrain, and

towns, rivers and roads, AND you'll see nearby wells

too.  And if available, you'll also be able to pull up the

production of each well, as well as the WVDEP API#

Well Permit Data. 

If it's available to us, it will be available to you.

This feature is normally only available to

"Special User's"  who are paying members on this

website.  But for a limited time, BitStream Energy

is offering a "FREE ONE DAY TRIAL" to all our

login members.  So, email us, and give it a try.  

If you have created a Login account, email us

and tell us the date that you would like to use for

your "FREE ONE DAY TRIAL"  day.  We'll set it up.

Then on the day you have chosen, click on 

"API # SEARCH" or "API # AREA SEARCH", 

under "Resources" section, and check out all

your wells.  It's that easy.  ENJOY!!!! 

We hope that this new feature will help you gain

more information easily, at your fingertips, and in

your own home or office.

If you have any questions, email us for assistance:  

                  This e-mail address is being protected from spambots. You need JavaScript enabled to view it   

Last Updated on Friday, 22 July 2011 12:39
<< Start < Prev 1 2 3

4

5 6 7 8 9 10 Next > End >>


Page 4 of 11